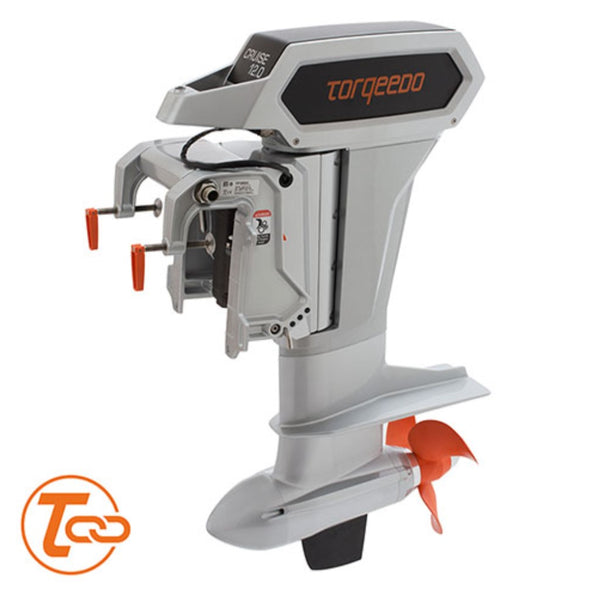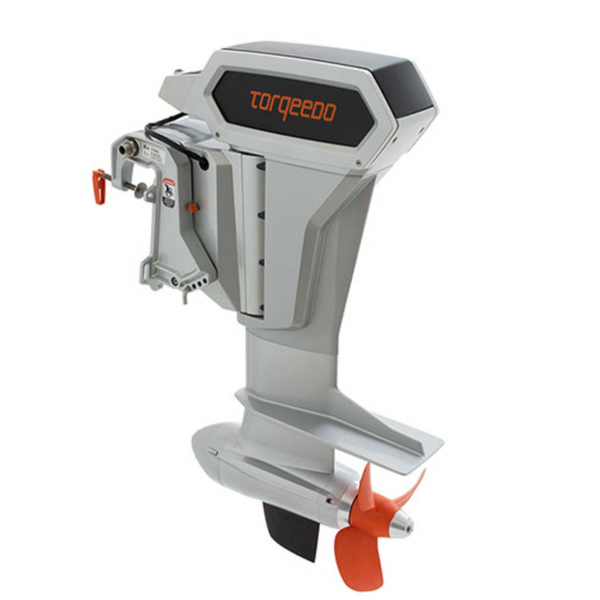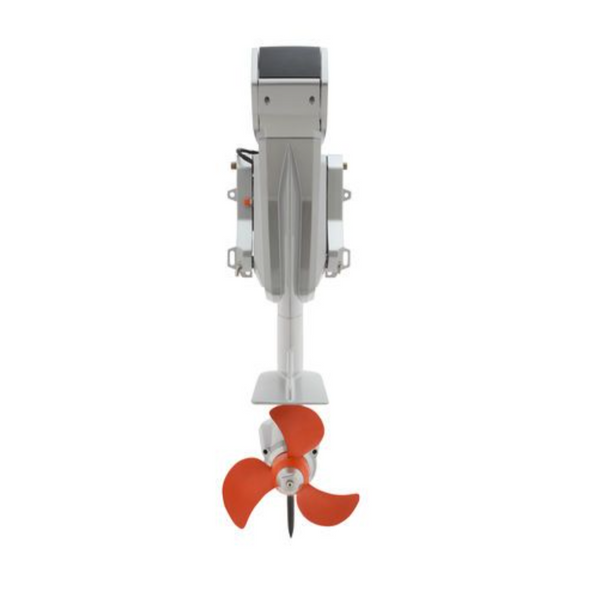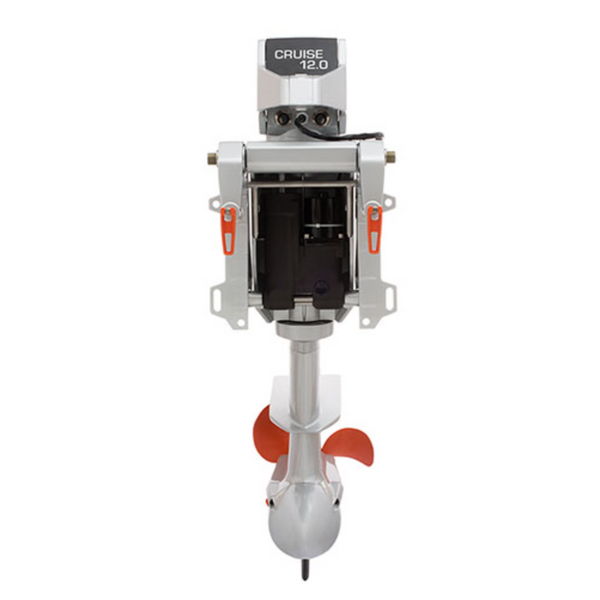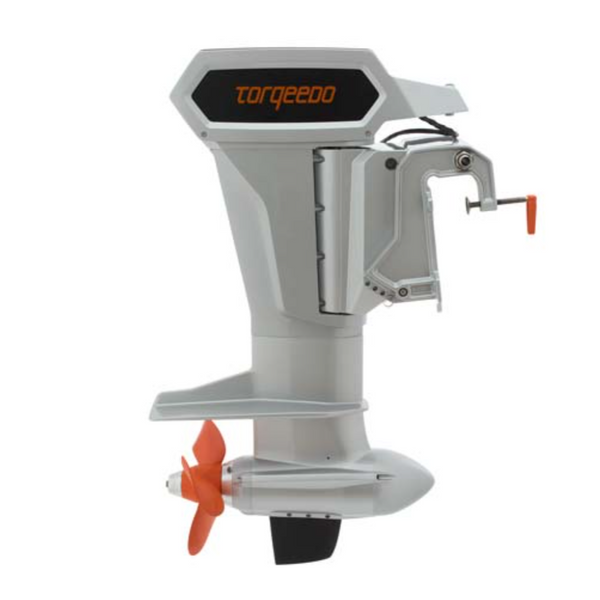 Cruise motors are the electric outboard motor of choice for motorboats, dinghies and commercial users. All Cruise systems have a built-in GPS with onboard computer and display with speed and input power, state of charge and remaining range, with a compact, low-drag, and lightweight pylon due to advanced helical gear design. Cruise 12.0 is a 48-Volt, 25 horsepower-equivalent outboard perfect for boats up to 10 tons. The Cruise 12.0 R ships with Torqeedo's advanced communication system, TorqLink (see below for further information), which allows faster and more accurate data sharing between system components.

The flagship model in the Cruise series delivers 12 kW of peak output and a continuous output of 10 kW, which can propel efficient boats up to a maximum speed of 30 km/h.
Its power supply requires at least two (Power 48-5000) or four lithium batteries (Power 24-3500)
Product description
12 kW continuous power - powerful propulsion like a 25 hp combustion engine

TorqLink data interface - enables fast data exchange between TorqLink components without gateway

Electric tilting device for comfortable operation

Easy handling thanks to low-voltage design (48 volts)

Very robust construction - corrosion-protected, seawater-proof and waterproof all around (IP67)

Battery connection cable with water-protected battery pole terminals (IP 66) for connecting up to two Power 48-5000

Variants: Short shaft S: 38.5cm shaft length, long shaft L 51.2cm shaft length, extra long shaft XL 63.9cm shaft length

Weight (without cable & main switch): 59.8 kg (S), 61.3 kg (L), 62.5 kg (XL)

To operate the Cruise 12.0 with more than two Power 48-5000 batteries, please contact your Torqeedo dealer

Please note that the engine power is reduced to 6 kW when operating with only one Power 48-5000 battery
Cruise 12.0T – Benefits:
High-efficiency outboard with 12,000 W input power, equivalent to a 25 HP petrol outboard

Pair with two or more

 Power 48-5000 battereis

 

for best performance and accurate range/runtime functionality

This model ships with remote steering link arm

Your choice of TorqLink throttles (we recommend part number

 1976-00 

TorqLink throttle with colour display)

Rugged aluminium pylon with integral fin – extra protection when running aground

Highest-grade seawater-proof aluminium for long service life, even in the harshest conditions

Comprehensive galvanic corrosion protection through careful matching of all materials and meticulous isolation of materials with different electrochemical properties - ships with anode set for fresh and saltwater
Cruise 12.0 with 2 x Power 48-5000
 

| | | |
| --- | --- | --- |
| | Speed in km's / hr* | Running time in hh:mm* |
| Slow | 5.9 | 10:00 |
| Half throttle | 12.7 | 1:25 |
| Full throttle | 28 | 01:00 |
* Dependent on factors such as type of boat, load, propeller and ambient conditions. Figures for speed and range are indicative only and are not a guarantee of performance.
Technical Data Cruise 12.0 R TorqLink
 

 

Cruise 12.0 R TorqLink
Input power in watts
12,000
Propulsive power in watts
6,720
Comparable petrol outboards (propulsive power)
25 HP
Comparable petrol outboards (thrust)
25 HP
Maximum overall efficiency in %
56
Static thrust in lbs*
≤ 405
Integrated battery
-
Nominal voltage
48
Final charging voltage
-
Total weight in kg
59.8 (S) / 61.3 (L) / 62.5 (XL)
Motor weight without battery in kg
-
Weight of integrated battery
-
Shaft length in cm
38.5 (S) / 51.2 (L) / 63.9 (XL)
Standard propeller
v = speed in km/h at p = power in watts
v22/p10k
Alternative propeller options
v32/p10k & v15/p10k
Maximum propeller speed in rpm
1,400
Control
Remote throttle
Steering
Provision to connect to standard remote steering
Tilting device
Electrohydraulic tilt device with overload protection.
Tilt angle
+-45°
Trim device
Manual, 4-step
Integrated on-board computer
Yes
Stepless forward/reverse drive
Yes
* Torqeedo static thrust measurement is based on internationally accepted ISO standards. Static thrust figures for conventional trolling motors are typically measured differently, which results in higher values. To compare Torqeedo static thrust data with conventional trolling motors, add approximately 50% to the Torqeedo static thrust values.
Ordering information
Item number: 1280-00  | EAN: 4260113696422
Throttle not included - best to use with TorqLink throttle with colour display. 
Equipment included: Outboard with TorqLink data communication, connection to remote steering, cable set (4.5 m, 95 mm2) including main switch and v22/p10k propeller, TorqLink data cable 3 m, tilt switch
Warranty: 2 years for non-commercial
Battery and Charger must be purchased separately.