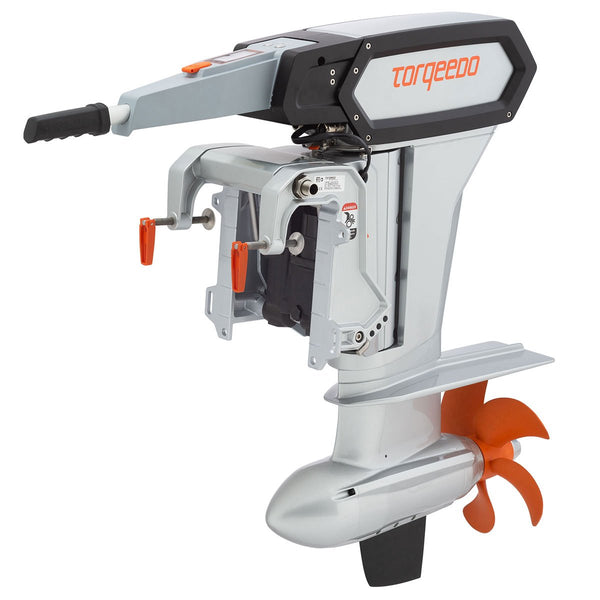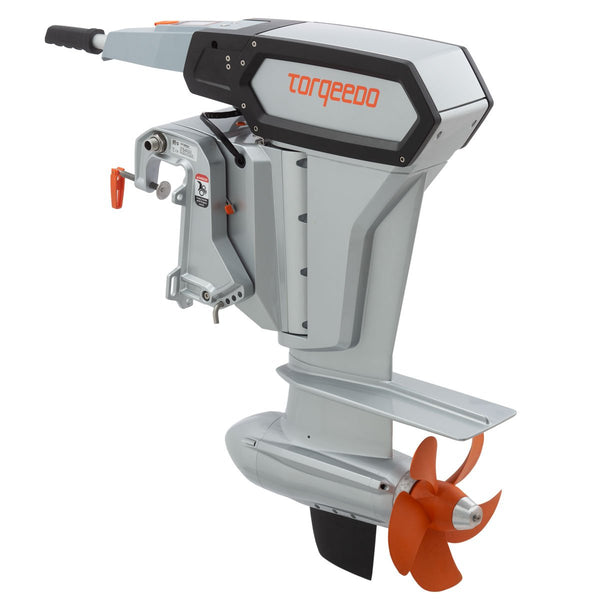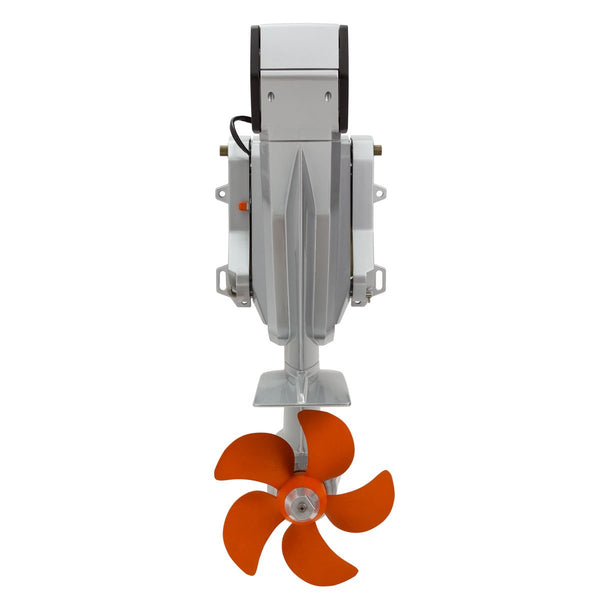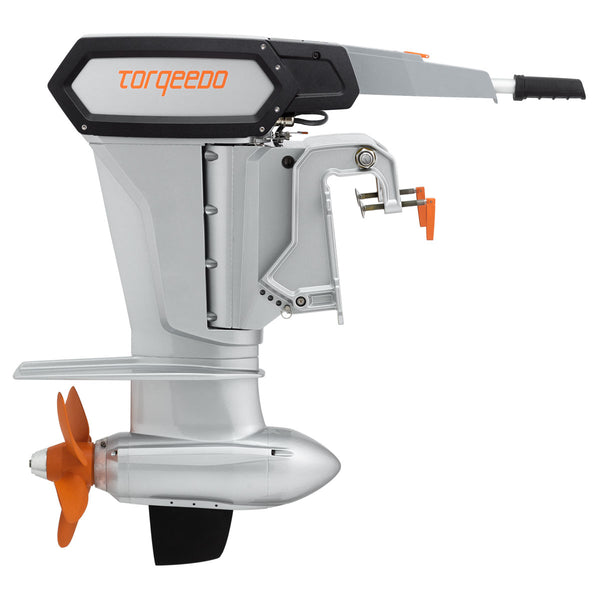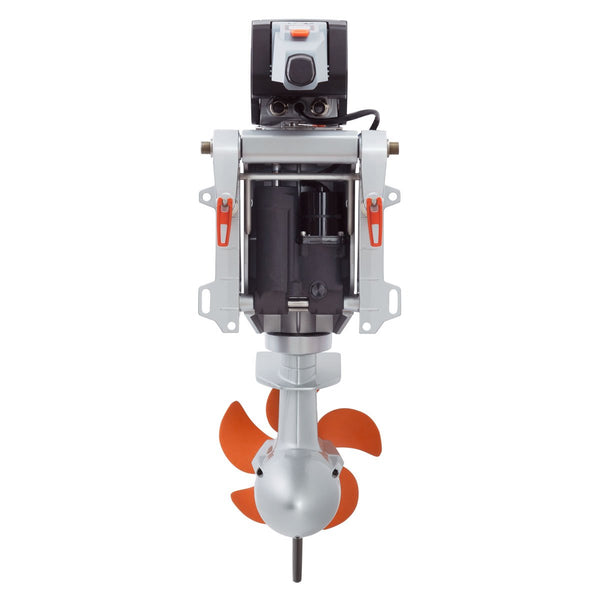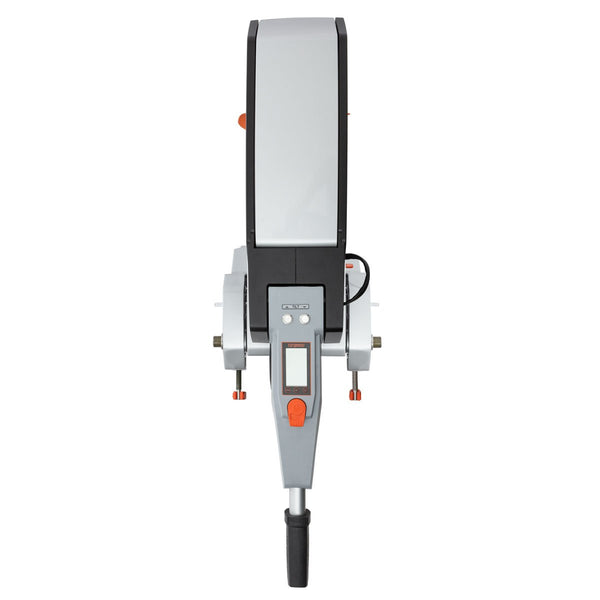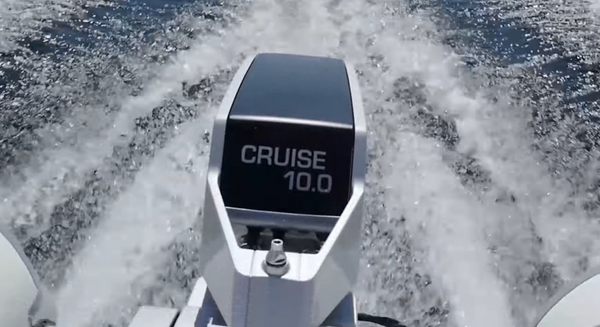 For motorboats and sailboats up to 10 tons
Cruise motors have a built-in GPS, with on-board computer and display, showing information such as speed and input power, state of charge and remaining range, even with third-party batteries. They have a robust, wear-resistant design thanks to features such as a housing that is waterproof to IP67, pylons made from aluminium and a specially reinforced fin. They team up with the purpose-developed propellers and additional Torqeedo components to create a highly impressive package.
The flagship model in the Cruise series delivers 12 kW of peak output and a continuous output of 10 kW, which can propel efficient boats up to a maximum speed of 30 km/h.
Its power supply requires at least two (Power 48-5000) or four lithium batteries (Power 24-3500)
Product description
---
Tiller-equipped version of the Cruise 10.0

12 kW peak output, 10 kW continuous output – powerful propulsion comparable to a 20 HP combustion engine

Intelligent on-board computer and the full convenience of a Torqeedo electric drive system

Electric tilting device for ease of operation

Easy handling thanks to low-voltage level (48 Volt)

Very robust design – corrosion-protected, sea water-capable and completely waterproof (IP67)

Slimline construction - elegant and modern

Versions: short shaft S: 38.5cm shaft length, long shaft L: 51.2cm shaft length, extra long shaft XL: 63.9cm shaft length

Weight: 60.3 kg (S), 61.8 kg (L) , 63.0 kg (XL)
Cruise 10.0T – Benefits:
12 kW peak power, 10 kW continuous power – powerful propulsion like a 20 HP combustion engine

Simple handling thanks to voltage level of 48 V

We recommend the Cruise 10.0 for dinghies and sailboats up to 10 tons.

Intelligent on-board computer and all of the convenience of a Torqeedo electric drive system

Very robust design – protected from corrosion, saltwater-capable, and completely waterproof (IP67)

Low-profile design – elegant and modern …
Cruise 10.0 T with 2 x Power 48-5000
 

|   | Speed in knots (km/h)* | Range in sm (km)* | Running time in hours: |
| --- | --- | --- | --- |
| Slow | 4.2 (7.8) | 32,0 (60,0) | 06:00 |
| Full throttle | 14,0 (26.5) | 14,0 (26.5) | 01:00 |
* Depends on type of boat, load, propeller and conditions. Speed and range indications do not represent a legal guarantee.
Information on range and speed
For a displacement boat making way through the water, the required propulsive power increases in proportion to the cube of the speed. This means that if you want to double your speed, you need eight times as much power.
And vice-versa, a small reduction in speed is enough to increase the achievable range substantially.
The Torqeedo Cruise's on-board computer calculates the remaining range constantly, by linking the motor's consumption data with the charging level of the batteries, and the speed over the ground from the GPS. This allows you to read the remaining range in real time from the motor display or the smartphone app TorqTrac.
Technical Data Cruise 10.0 T
 

 

Cruise 10.0 T
Input power in watts
10,000
Propulsive power in watts
5,600
Comparable petrol outboards (propulsive power)
20 HP
Comparable petrol outboards (thrust)
25 HP
Maximum overall efficiency in %
56
Static thrust in lbs*
≤ 405
Integrated battery
-
Nominal voltage
48
Final charging voltage
-
Total weight in kg
60.3 (S) / 61.8 (L) / 63.0 (XL)
Motor weight without battery in kg
-
Weight of integrated battery
-
Shaft length in cm
38.5 (S) / 51.2 (L) / 63.9 (XL)
Standard propeller
v = speed in km/h at p = power in watts
v22/p10k
Alternative propeller options
v32/p10k & v15/p10k
Maximum propeller speed in rpm
1,400
Control
Remote throttle
Steering
Provision to connect to standard remote steering
Tilting device
Electrohydraulic tilt device with overload protection.
Tilt angle
+-45°
Trim device
Manual, 4-step
Integrated on-board computer
Yes
Stepless forward/reverse drive
Yes
* Torqeedo static thrust measurement is based on internationally accepted ISO standards. Static thrust figures for conventional trolling motors are typically measured differently, which results in higher values. To compare Torqeedo static thrust data with conventional trolling motors, add approximately 50% to the Torqeedo static thrust values.
Ordering information
Item number: 1243-00  | EAN: 4260113695463

Equipment included: Tiller with integrated information display, magnetic kill switch, 70 mm² battery cable with main switch (4.5m), standard prop v22/p10k and sacrificial anodes (Al)

Battery and Charger must be purchased separately.

Warranty: 2 years for non-commercial use

California residents please click here for Prop 65 warning